Currently on Air:
We're on autopilot.

Submitted by jkk114 on Tue, 2016-08-23 23:53
tag(s) :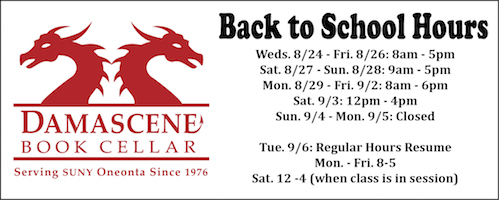 Submitted by Dave Ring on Mon, 2016-05-09 09:01
It's the last regularly scheduled Roots and Branches-I'm playing some of my favorites, some requests, and I'll talk to the two people who started me down this radio path.
Submitted by maryrose on Fri, 2016-05-06 20:10
Last show of the semester. It has been a great experience. I hope you all tune back in again next semester and thank you for listening!
Thanks for another great year! :) Love your faces
Submitted by DDeis on Wed, 2016-05-04 16:04
Special avoiding responsibility broadcast!
Some classic garage and psyche plus local and unsigned bands
Submitted by Cully on Tue, 2016-05-03 23:58
Shoutout all the faulty AUX cords... WORLDWIDE!!!
© 2016 WONY, an SA funded club. Views expressed here are those of WONY and its members, not SUNY College at Oneonta or the SA.