Dave Ring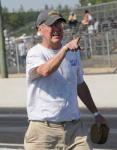 DJ Profile
Quote

"Something is happening here and you don't know what it is, do you Mr. Jones?" -Bob Dylan

Hometown

Norwich, CT then, Oneonta, NY now

Class Year

Faculty

Real Name

Dave Ring

DJ Name

Dave Ring

Major

Economist

Musical Influences

Jimmie Rodgers, Hank Williams, Robert Johnson, BB King, Bill Monroe, Count Basie, Duke Ellington, Louis Armstrong, John Coltrane, Chuck Berry, Little Richard, very early Elvis, Fats Domino, Buddy Holly, Johnny Cash, the Beatles, the Stones, Jefferson Airplane, Lovin' Spoonful, the Byrds, Bob Dylan, Tom Rush, Joan Baez, Jim Kweskin Jug Band, Tim Hardin, the Dead, Aretha Franklin, Otis Redding, Booker T and the MG's, Sam and Dave, and lots more of Stax, Dusty Springfield, Laura Nyro, the Isley Bros, the Funk Bros, the Four Tops, the Temptations, the Miiracles, and lots more of Motown, Bonnie Raitt, Shawn Colvin, Mary Chapin Carpenter, Susan Werner, Joe Ely, Jimmie Dale Gilmore, Butch Hancock, Doug Sahm, and lots more from Texas, Sam Bush, Bela Fleck, and lots more bluegrass and new grass, and we haven't even started in on people from Ireland-hell I've been listening to music rather closely for over 50 years.
History
Member for

9 years 27 weeks

Blog
Programs
on WONY Spring 2013 Schedule Monday 8-10am, WONY Fall 2013 Schedule Monday 8-10am, WONY Spring 2014 Schedule Monday 8-10am, Spring 2017 Monday 8-10am, Fall 2017 Monday 8-10am, Spring 2018 Monday 8-10am, Fall 2018 Monday 8-10am and Spring 2019 Monday 8-10am.
© 2019 WONY, an SA funded club. Views expressed here are those of WONY and its members, not SUNY College at Oneonta or the SA.